We are all in the know when it comes to what's hot and what's not. We see which stocks are trending upward, and which ones are going down like a rock. And we're always on the lookout for the next stock to blow up. So today I'm going to be sharing with you guys some of the best penny stocks of 2021.
In this article, I'm presenting my findings and opinion on some of the best penny stocks to buy today with opportunities for good upside. They are four in number, with operations in hot industries including fintech, cannabis, crypto, and consumer goods.
The First Stock to blow up?
1) Humbl Inc (OTCMKTS: HMBL)
HMBL is a San Diego, California-based company that develops mobile apps for digital payments. It's a fintech startup in its right, with the world of fintech being very hot right now both in the private and public markets.
• HMBL was listed in December 2020 following a reverse merger with a small floor and wall covering materials company named Tesoro Enterprises. On the heels of becoming public, it launched the first version of its mobile payments application this April.
The HUMBL Pay mobile app is an app allowing users to discover merchants to purchase products from, be it, merchants of physical goods or virtual goods like tickets to live events and non-fungible tokens (NFTs) which have been hot as of late. The app also connects users to third-party financial services such as lending.
For its mobile app, HMBL has considerable potential for success as it's scheduled to launch in many countries. With that, HMBL stock seems like one that could go up significantly.
HMBL plans to launch its app across many countries, beginning with Phase I in the United States, Canada, Mexico, Australia, Singapore, and New Zealand. These are economically strong countries representing a lucrative market base for mobile payments.
For Phase II, HMBL plans to launch in over two dozen countries across Europe. Then for Phase III comes a launch in Brazil, India, Hong Kong, Japan, Malaysia, most of them are smaller fintech markets.
HMBL has its eyes set on global reach despite still being in its early stages, starting in stronger economies like the US and Canada before expanding into weaker ones but still with a major fintech market such as Brazil and India.
Analysis
• HMBL has historically traded at a range of $0.8 to slightly under $2. Now, it trades for about $0.9 per share, with a market cap of roughly $800mn.
• Over the past 65 days, HMBL has had an average daily trading volume of 12.6 million shares at a mid-range of $1.4. That sums up to well over $10mn of shares of the company traded daily, indicating high interest in the world of penny stocks.
• HMBL has roughly 974 million outstanding shares, with 760 million of that as its public float. It's been a major market mover in the world of penny stocks as of late.
• As for revenue, HMBL, still in its early stages, currently has minimal revenues. It reported sales of just $179k in 2019 and a net income of $15k. But with the recent launch of its mobile app, we predict that the company's sales will grow significantly.
• At that, we predict that HMBL could go as high as over $4 in a few months. It's an investment suitable for people with a higher-risk tolerance profile.
• The fintech world is very strong now, accelerated by the Covid pandemic. HMBL is a major beneficiary of this and poised to ride the strong waves of the market. I view HMBL as a long term play. Its current position in the market and the plans put in place for the future, earns its spot in this list.
Up-and-comer in the Tobacco industry, The next stock to blow up?
2) Green Globe International Inc. (OTCMKTS: GGII)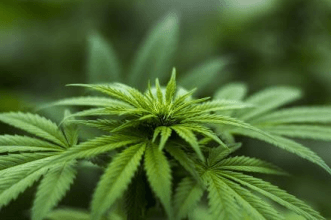 Green Globe International Inc. is a marijuana company with its eyes set on disrupting the tobacco industry. It plans to do so with the offering of plant-based smokables such as CBD, CBG, and herb cigarettes to willing users.
GGII was previously a company that gave out independent certification for sustainable brands, but it turned its focus towards marijuana products after a recent change in control. It recently turned over control to Hempacco, a company with an ambitious plan to tackle the tobacco market with substitute plant-based smokables.
Catalysts
• As of late, GGII has seen a lot of trading activity thanks in part to its recent change of control. Many investors have positive sentiment towards the marijuana market with increasing legalization across the US and thus saw GGII as a viable investment.
• The marijuana market is poised for high growth as positive perception towards it goes higher by the day. In fact, recreational use of marijuana is now legal in 15 states in the US while medical use is legal in 37 out of 50 states. More so, there are bills in place pushing for legalization in more states.
• The increasing legalization of cannabis use opens up more markets for commercial companies in the space that get it right. With that, there have been many companies pushing to do so and GGII is one of them.
• GGII has a strong potential to deliver with its vision of creating cannabis-infused consumer products. Hempacco is very crucial to that vision, led by an ambitious team.
• Hempacco plans to have its own suite of CBD brands produced in its own factory and disbursed by its network of vendors. It's developing its own brands as well as partnering with other companies to create joint brands. Now, it has 15 current partners and growing.
• Hempacco is based in the state of California, a leading state in the legal cannabis market. California has been a front-running pusher of legal cannabis and thus has cornered a great deal of the market. That Hempacco is based there is a strong advantage.
• Being a penny stock with currently minimal operations, GGII has posted minuscule revenue over the previous years. But with its focus turned towards the cannabis market, I believe it can deliver.
Analysis:
• GGII has historically traded for pennies, from as low as $0.01 to $0.1 over the past year. Currently, it trades at $0.08, with a market cap of $290mn.
• Over the past 65 days, GGII has had an average daily trading volume of 213 million shares at a mid-range of $0.08. That sums up to $17mn traded daily, a healthy volume by penny stock standards.
• Riding on the backs of a growing cannabis market, we believe that GGII could get significantly bigger than it is now. Think double or more its current stock price in the next year.
• "GGII" is ideal for investors with a knack for the legal cannabis industry. It's attractive for being an early mover in an industry poised for high growth over time. Given the research results, I'd rate it as a high risk-high reward penny stock.
The one that's making noise in the OTC world
3) FBC Holding Inc (OTCMKTS: FBCD)
FBCD is a New York-based company engaged in the sale of health and wellness products. It sells its products directly to consumers
online as well as through key relationships with retailers like QVC and HSN.
FBCD has a strong reach for its products thanks to a network of domestic and international distributors. These distributors come in handy in getting its major lines of products including cosmetics and toys into the hands of customers.
Catalysts
• FBCD has a strong foothold in the consumer goods industry, a strong and steadily growing one. It's not a big name in the industry, but one of many underdogs that nonetheless have a suitable business. With its play in the consumer goods industry, FBCD seems like a healthy stock to bet on.
• It's currently being heavily pushed by a few mainstream twitter influencers, which is helping in getting lots of people to jump on the stock.
• FBCD is notably based in New York, a prime location for selling consumer goods. This is as it's one of the wealthiest US cities with many people having high disposable income.
Analysis
Over the last 65 days, FBCD has had an average daily trading volume of 92.4 million shares with a stock price hovering around $0.02. That adds up to an average daily trading volume of $1.8mn, a good chunk of its current $40m+ market cap.
We predict that FBCD stock could soar higher and even almost double in the span of a few months.
The trading volume points to high interest in FBCD as a penny stock and thus making it a viable investment for investors on the lookout for the next stock to blow up.
Last but not Least
4) KYN Capital Group Inc (OTCMKTS: KYNC)
KYNC is a company originally founded as a capital finance leasing company providing loans for the real estate industry and other pricey purchases. Its business lied in lending considerable sums of money to real estate buyers to be paid back with interest as profit.
In addition to real estate loans, KYN also had an equipment leasing business comprising leases for pricy equipment such as airplanes, cars, and trucks. It's a business that has existed for a long time in our modern capital markets.
Though, now, KYNC has been repositioned as a holding company for acquisitions in hot markets like cryptocurrency, blockchain, fintech, and entertainment.
KYNC was founded by Chinese entrepreneur Jing Min Chen in September 1997 and is headquartered in Nevada.
Details:
• With its recent repositioning as a holdings company for acquisitions in the hot sectors, KYNC appears poised for good growth in its business. In addition to being good potential businesses, the hot sectors usually better attract investor attention to stocks betting on them.
• Recently in this year, KYNC stepped up its game after it repositioned itself. It wants to become a more legit business and thus hired a new CEO after firing its previous CEO. It kicked off efforts to keep its filings up to date and become "pink current".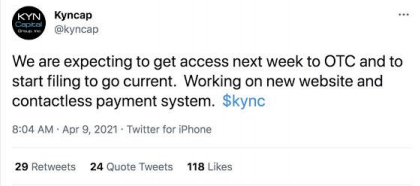 • KYNC now has a focus on the application of cryptocurrency and fintech solutions in the entertainment space. Going by current standards, this new focus is bound to draw more investor attention towards the company and thus creating more potential for its stock to grow higher.
• KYNC currently trades for around $0.01 per share, with a market cap hovering at $40mn. It has a whopping 3.5 billion shares outstanding, enough to go round for willing investors.
• We predict that KYNC has high growth potential due to its foray into crypto and fintech solutions for the entertainment industry, backed by a new CEO, Rick Wilson, who's spearheading a search for acquisition and joint venture opportunities.
These are four penny stocks you could look into with potential being the next stock to blow up. They are underdogs in their respective business worlds making significant moves that have positioned them in line for good business.
They present a lot of upside and attractive opportunities. It wouldn't be too hard to say they are some of the best penny stocks on the market right now.
DISCLAIMER:
Please visit and read our disclaimer here.